Professional Personal Trainer Cooper City - Cindy's Fitness Experience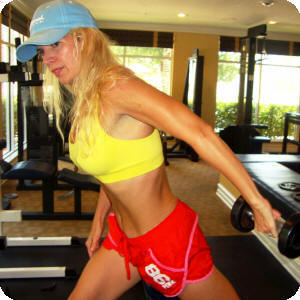 The local phone directory listing for a professional personal trainer Cooper City is quite cumbersome. But, you shouldn't want just anybody you see. You want Cindy's Fitness Experience, the only place in South Florida where clients are treated as individuals and not another training job. Here, your personal goals and expectations from fitness training are understood by all. Cindy personally designs and manages all workout plans, each one being designed to cater the trainee's own needs, based on their physical thresholds, strengths and weaknesses. She is a goal-oriented, professional trainer, committed to working for you. Her perseverance and ingenuity inspire all her clients to gain physical and emotional strength by using their own body weights and resistance training.

When you're ready to get serious about your health and well-being, call Cindy's Fitness Experience because she's the only one that is serious about helping you get yourself there. Cindy will train you herself and work with you, providing you with the support and assistance you need to reach your goals and achieve your intended outcomes! The continuous dedication to customer satisfaction and the personal relationships Cindy builds with all of her clients are the reasons Cindy's Personal Fitness has gained and maintained their stellar status and excellent reputation. Her expertise, ingenuity, and drive help her clients attain physical and mental strength by utilizing their own body weight and using resistance training, along with consistency and persistence. You can finally find your ideal workout with her effective and reliable personal training program, where she will ensure that all of your needs and goals are met. So if you are looking for the opportunity to finally obtain the right Professional Personal Trainer Cooper City whom you can trust, and who will stand by you until you meet your own expectations, give Cindy's Fitness Experience a call today! Click on "Fitness Packages" for more details on our individual or couples packages for personal fitness training.

Some of our Personal Fitness programs include:


Muscle Mass Building
Strength Training
Athletic Training and Conditioning
Toning and Shaping
Weight Loss and Body Fat Reduction
Adult and Child Weight Control
Pre and Post Natal Training
Stretching Classes
Stress Relief
Nutrition Programs
Cindy is a personal trainer and fitness coach that has over 15 years experience in the fitness industry as both a fitness instructor and a Spa & Fitness Director. She is a Certified AFAA instructor and Madd Dogg Athletics Spin Instructor. She has completed AFAA Prenatal Course allowing her to safely train expecting mothers and complementing her Mommy and Me Training Program for moms and dads with their babies.
Cindy's Fitness Experience, offers a multitude of customized fitness classes and programs that include Lead Group and Individual Personal Training Sessions, Boot Camp Programs such as her "Beach Blast Boot Camp" and "Trail Blazing Boot Camp", Step , Aqua Aerobics, Core Conditioning Training and so much more.
As part of her commitment to her dynamic fitness industry, Cindy is a Member and Participant of ECA Sports Training and of WSSC World Spinning and Sports Conferences. She remains an ongoing participant of various Fitness and Wellness Conferences throughout North America.
Fitness Stress Relief at Work - Cindy's TV appearance on CBS4