30 Minute Zen
Hitting the mat can actually beef up your brain's stress defenses, a new Harvard Medical School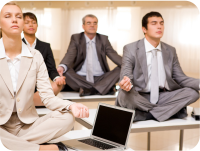 Study reports. Adults who practiced about 27minutes of mindful activity a day, including gentle yoga, stretch and meditation exercise, had significant increases in gray matter in eight weeks, specifically in the parts in the brain that help regulate emotions and stress.
The 30 minute Zen is a combination of Office Yoga and Stretching moves that allow you to accomplish many great benefits in a short period of time and even better at the convenience of your work location. In booking this session for just 30 minutes in the day ,you will be AMAZED on how a little dose of this will allow you to bring calm, relaxation, physical and mental ease in the work place....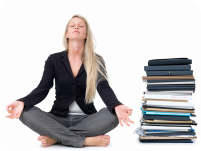 For the employer, it's a great way to say "Thank You" and demonstrates the company cares about their employers well being. In addition, the productivity and alertness for the employees increase thus accomplishing much more in the hours put in for the day in a much more positive and less stressful manner. Lastly, it will change the perception of the room that you spend so many hours in trainings and meetings which you may not always have the most positive experience in during those stressful times..
For the employee, whether you have deadlines, reports and meetings to attend to, taking 30 minutes out of your full day, will help you tackle all of these tasks in a much more clearer, happier and stronger way.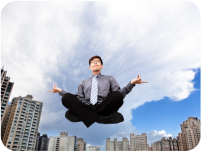 Learn new stretches and techniques that you can do in the workplace to help you with those neck and backaches pains so commonly found in the office workplace and you can do right at your desk! Too busy to workout at all? Let this be the jump start to begin your fitness experience, you will be surprised at the connection you will make physically and mentally to being your journey to overall health and fitness.

Its simple, all you need is a room with some space (tables and chairs can be moved) and Cindy's Fitness Experience will provide the ambiance, instructor, music and setting for your thirty minute ZEN...
TV appearance on CBS4
On-The-Job Yoga Re-Energizing S. Fla. Employees
CONTACT US TODAY
30 Minute Zen Testimonial:
"The lunch time 30 minute zen sessions are the perfect break from the workday. They allow me to regroup, stretch my body, and re-energize to conquer the rest of the work day. The room is set up in a way that calms everyone from their busy day. The way you teach them makes it easy for anyone to enjoy and participate in the session. I can take these sessions home and use the techniques to stretch after a nice workout. Healthy living is bliss!"
Amber Daal
At any job, we constantly encounter physical and mental burdens of daily work. In my case, sitting in front of a computer all day and repeating the same work-related postures and motions like typing, standing, running to a meeting, dealing with demanding schedules etc. leave the body and mind drained.

When I found out that my employer, The Continental Group Inc, was taking the initiative to give all employees the opportunity to attend a FREE 30 min Yoga/Zen class, I was completely static!
Yoga at work definitely relieves the effects of work-related stresses and helps centering and focusing which can bring you back to an energized, refreshed state.
Once I come back to my desk from the yoga session I feel I am more productive, relaxed, and re-energized. This state translates into more positive thinking and it helps with decision-making, efficiency, and communication. It also improves the office morale since I share feelings and thoughts with other fellow co-workers that I usually do not see on a day-to-day basis.
Overall, it has help me maintain wellness throughout my workday enhancing my overall sense of mindfulness and motivation towards healthy living.
Lauren Bartrolli (Continental Management Company- Dade office)