Personal Trainer in Aventura - Cindy's Fitness Experience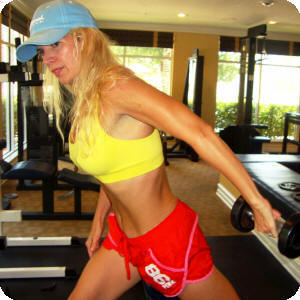 Is your dream a Personal Trainer in Aventura? That special dream will be realized when you engage the services of Cindy's Fitness Experience. As an award-winning fitness professional, Cindy offers you the opportunity to work towards and meet your most challenging goals. Strategically focusing on you and you only, Cindy will develop your personalized program that allows you to enjoy the entire process towards reaching your goals and objectives. It does help a lot that Cindy is herself flexible and understanding, as well as disciplined and steady. In addition to that she will respect your time frame and fit into your schedule, so that you are always able to progressively master your sessions in an orderly manner.

There is absolutely no question as to if you will feel comfortable! Yes, you will. And you will love it! Cindy's Fitness Experience will provide you with the most effective, and most successful personal training in the world! She takes a holistic approach; eating right and engaging in a wholesome lifestyle counts, and she will encourage you to go on that wise route. Call your best Personal Trainer in Aventura now! A FREE consultation is yours. Cindy's Personal Fitness has gained and maintained their stellar status and excellent reputation by the continuous dedication to customer satisfaction, and by the personal relationship Cindy builds with all of her clients. Her expertise, ingenuity, and drive help them attain physical and mental strength by utilizing their own body weight and using resistance training, along with consistency and persistence. You can finally find your ideal workout with her effective and reliable personal training program, where she will ensure that all of your needs and goals are met. Click on "Fitness Packages" for more details on our individual or couples packages for personal fitness training.

Some of our Personal Fitness programs include:


Muscle Mass Building
Strength Training
Athletic Training and Conditioning
Toning and Shaping
Weight Loss and Body Fat Reduction
Adult and Child Weight Control
Pre and Post Natal Training
Stretching Classes
Stress Relief
Nutrition Programs
Cindy is a personal trainer and fitness coach that has over 15 years experience in the fitness industry as both a fitness instructor and a Spa & Fitness Director. She is a Certified AFAA instructor and Madd Dogg Athletics Spin Instructor. She has completed AFAA Prenatal Course allowing her to safely train expecting mothers and complementing her Mommy and Me Training Program for moms and dads with their babies.
Cindy's Fitness Experience, offers a multitude of customized fitness classes and programs that include Lead Group and Individual Personal Training Sessions, Boot Camp Programs such as her "Beach Blast Boot Camp" and "Trail Blazing Boot Camp", Step , Aqua Aerobics, Core Conditioning Training and so much more.
As part of her commitment to her dynamic fitness industry, Cindy is a Member and Participant of ECA Sports Training and of WSSC World Spinning and Sports Conferences. She remains an ongoing participant of various Fitness and Wellness Conferences throughout North America.
Fitness Stress Relief at Work - Cindy's TV appearance on CBS4